Here is a comparo between the 4B11, 4B12 and 4B11T camshaft. (Copy and paste it to a A3 word document and enlarge for better view).
You would notice that mechanically the camshaft and valvetrain requirements are 99% the same. This suggest that you could, for example, plug and play the 4B12 camshaft (specifically only the intake side is needed) into the 4B11 motor. What is more important, is in this example, the valve lift in the 4B12 is 15 degrees longer whilst it also maintains idle stability. Additionally, there is no need to change the valve spring and retainers, stock ones are good enough.
Table details (from the specifications) the overlaps, intake duration and exhaust duration which is important for you to decide. From the onset, it looks like the Evo X cams are the best bet.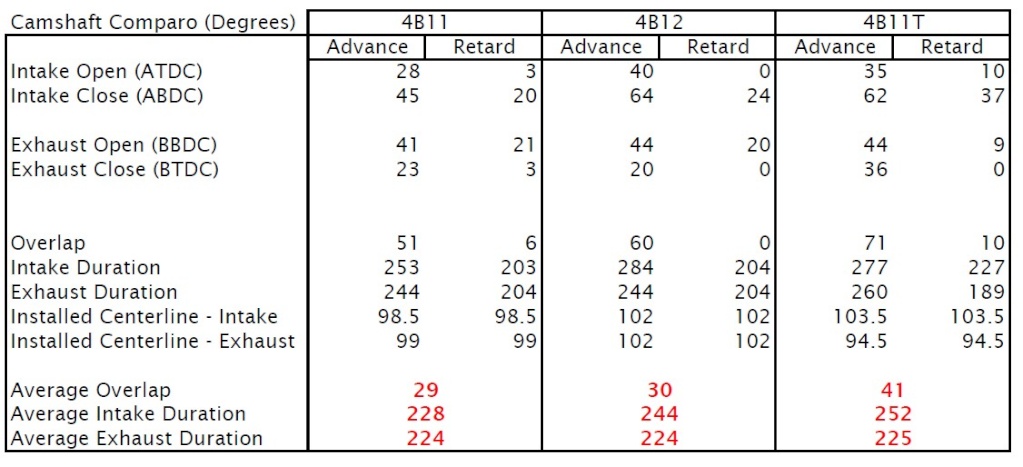 Average
4B11 - 228 Degrees, Overlap 29 Degrees
4B12 - 244 Degrees, Overlap 30 Degrees
4B11T - 252 Degrees, Overlap 41 Degrees
Thereafter, a simple ECU reflash with OpenEcu (tactrix) with say a GTS stock rom or a Sportback stock rom as a baseline - for which you fondly call the hex to achieve +10whp.
Based on current information around the net, both EvoX cams and 4B12 cams would give gains of +10whp (peak). From a performance stand point, the EvoX cams moves the powerband higher at the extreme rpm (say 6500rpm) as opposed to the 4B12 cams since the valve overlap is 41 and 30 respectively. 4B12 cams would most like give a more OEM feel with more power gained at 5000-6000rpm. Addtionally, the EvoX cams may give a bigger dip between 3100rpm and 4500rpm (or before MIVEC engages).
From a cost standpoint, opting for the EvoX cams entails changing the springs and retainers to EvoX specifications (to prevent valve floating). Opting for 4B12 cams entails only changing the cam on the intake side only, leaving the oem springs and retainers intact.
Happy Modding!